Description of Home for Sale
Context: Much more than a private townhome with backyard and garage, this townhome is just part of the homeowner's property and experience at Ravens' Roost. In this neighborhood of 35 households that owns 6.2 acres with extensive common amenities both indoors and out, residents know each other and have a lot of FUN!  Although the neighborhood is the only one of its kind in Anchorage, the residents are just regular people (see "Resident Bios" under "About Us" on this website).
Please read the rest of this website in order to understand the lifestyle here.
Townhome: 1355 sq ft, 3 Bedrooms, full bath upstairs, bath with large walk-in shower downstairs
End unit of triplex, with a landscaped green in front, open wooded area in back, green space on the side
Gets lots of sun: Windows on 3 sides, including large, directly south-facing windows
High ceilings in kitchen, dining area, and bedrooms. Lofts above closets in all bedrooms.
In-floor heating in ground floor, hot water baseboard upstairs
6 Star energy efficiency
Triple pane windows and excellent soundproofing between units result in quiet home
2016 building codes include high level of structural integrity during earthquake
Refrigerator included; Washer & Dryer hook-ups upstairs (optional laundry in common house)
Grass back yard. Residents can fence or not, deck/patio, landscape, as long as it looks nice.
1 parking space in heated garage with large storage loft, and 1 open-air parking space
Here are just a few photos: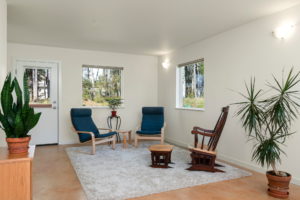 More photos and a virtual video tour at:
www.RavensRoostTownhome.com
For price, click here.
For how we've dealt with Covid, see "Frequently Asked Questions."