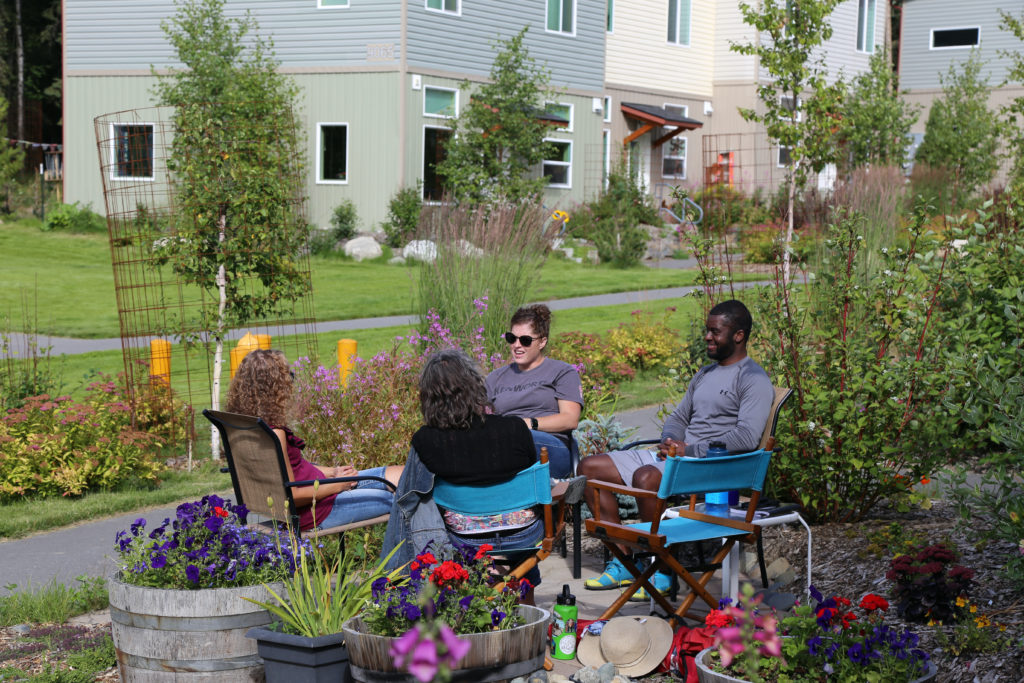 Cohousing: As much privacy as you want in your own full-featured home (including full kitchen and private back yard), and as much community as you want outside your front door. Designed for residents to get to know each other and enjoy all of the benefits of a friendly, supportive neighborhood. This is a unique opportunity to enjoy quality town home living in green surroundings with southern exposure, close to Hillside hike / bike / ski trails and close to shops at Abbott & Lake Otis.  There's nothing else in Anchorage like this! Perfect for kids, parents, elders, and snowbirds!
Only 1 Home Available!
see "Home for Sale" in menu bar for more information
Watch a video about our neighborhood:
Ravens' Roost honored with 2 Awards!
The Alaska Housing Finance Corporation and the State of Alaska Home Builder Association awarded Ravens' Roost and The Petersen Group with the 2017 Developer of the Year Award in recognition of designing and developing the most energy-efficient multi-family homes in the state. Our homes received a coveted 6 star (the highest level in Alaska) rating based on thermal resistance, air leakage, moisture protection, and ventilation. The 6 star rating means our energy usage is reduced by 20-35% versus a typical home.
The Alaska Chapter of the American Planning Association awarded Ravens' Roost with the 2017 Best Practices Award.
Add yourself to our contact list.
If you have signed up for our email list but are not receiving our messages,
please check your spam filter.
COVID-19 Note: One big advantage of Ravens' Roost has been the level of support and safe socializing during the pandemic. We agreed that if anyone got the virus, we'd set food and other requested items outside their door and check on them by phone. Outdoors, with masks and physical distancing, we enjoyed socializing safely. Aside from daily chatting, we had socially-distanced take-out dinners on our patio, worked in our gardens at safe distances that still allowed for conversation, and have even had outdoor distanced dance parties! So we didn't feel as isolated as others. Everyone over 12 is now vaccinated, and no one at Ravens' Roost is aware of having had the virus.

Call 907-399-2051 to learn more or request a tour!