Neighborhood Design
Our neighborhood runs east-to-west to maximize southern exposure: every home and the Common House have directly south-facing windows.
On the east side of the neighborhood are five triplexes and a six-plex around a landscaped green that doubles as our emergency fire lane.  Behind the homes are open birch/spruce woodlands.  The central green has been landscaped with a variety of trees, bushes, flowers, and gathering areas.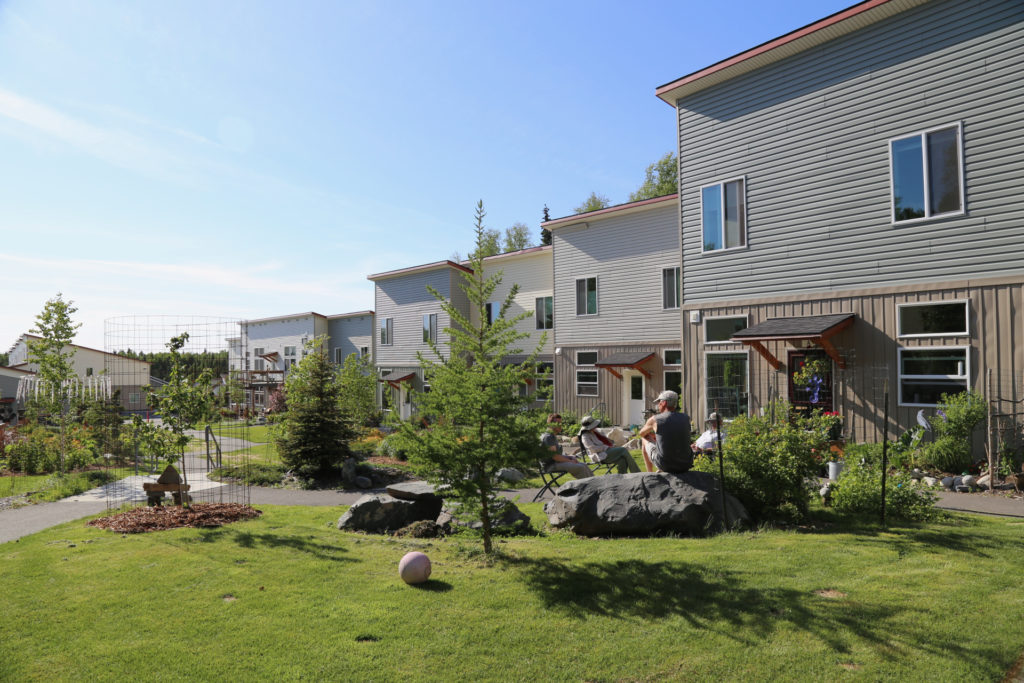 On the west side are 14 townhomes, 12 of which have their front door opening into an atrium that is attached to our Common House, which is in the middle of the neighborhood.  Here are some back yards and common area on the south side of the atrium:
All homes on ground level have a private back yard.  Residents of our three second-level homes have been allocated ground space to use as a yard — perhaps for a shed, a dog run, a garden, etc.
Garden boxes on the south side extend toward the Common House so it's handy to harvest herbs and veggies for meals. Below, the Common House is on the left:
Inside the atrium, the front doors of the homes open onto an enclosed pedestrian "street" filled with plants and art.  South-facing clerestory windows above provide a bright atmosphere.  The atrium serves as both a covered walkway and a social space — some residents have small tables and chairs near their front doors.  On the east end, the Atrium connects to the Common House; out its western door, the building with the workshop/wood shop and sewing and fitness areas is only steps away.
Our wood shop / workshop in the separate, 1440 square-foot building: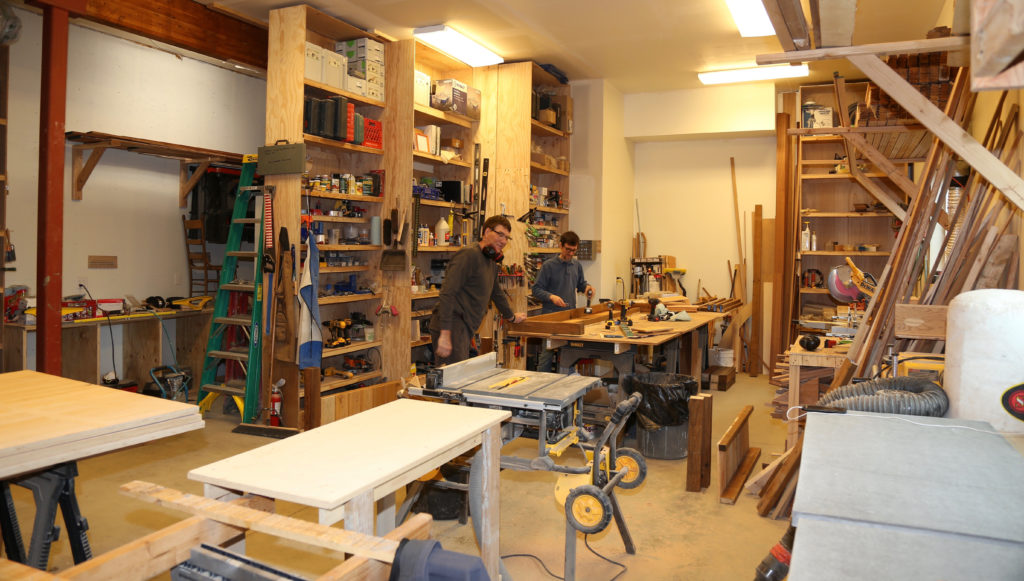 Also in this building are our sewing / quilting, fitness, and bike repair areas (photo needs updating):
A rendering and a diagram of our neighborhood layout. The Common House is the large building in the middle of the neighborhood. Each townhome shares at least one wall with another home in order to reduce the energy needed to heat our homes in this northern climate. All windows are triple-pane for both energy efficiency and quiet interiors.